Special Applications
Churches
Special Applications Guide
Churches
The AlphaEclipse outdoor LED Signs are an affordable, state-of-the-art way to communicate church programs and ministry news to the local community.
Used in conjunction with our messaging software, these highly visible displays can be used in a variety of applications.
Existing signage
Pylon signs at high traffic locations
Monument signs
Additions to existing church school scoreboards
Parking entrances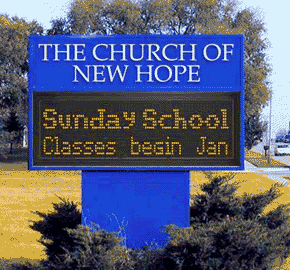 Communicate important parish messages at a moment's notice. Standard computer software is included to turn your PC into a convenient programming tool. Optional wireless devices enable easy installation, with no complicated wiring. Optional telephone modems allow you to communicate with displays in remote locations.
Advances in outdoor LED technology provide you with a virtually maintenance-free product. Superbrite, solid-state LEDs last for over 100,000 hours of continuous operation, consume less than 1/40 the power and outlast comparable-sized incandescent message centers. Alpha message center systems used both indoor and out create exciting, moving advertising. Use indoor Alpha displays for church call systems, or to list service hours.
Advertise parish activity schedules of the day/week/month
Highlight important ideas from church bulletins
Promote religious spirit and special events
Welcome new parish members
Display community involvement and events
Use time/date/temperature feature
Features
Long life LEDs – 100,000 hours
Character size: 11 to 22-inch
24 models available
One-year U.S.A. factory warranty
Stores & displays over 81 messages
Flexibility of 1 or 2 line messages
Front-serviceable
Lightweight, high-tech, durable extruded aluminum case
6 Character fonts
Create your own graphics & logos
A standard RS232/RS485 interface, with embedded firmware that allows for automatic conversion of serial communication signals from RS232 to RS485 in multi-sign networks.
Optional modem
An optional, bi-directional wireless transceiver that allows you to both send and receive communication signals. The wireless transceiver also eliminates cabling requirements.