Special Applications
Lean Manufacturing
Special Applications Guide
Lean Manufacturing
Introducing the AlphaVision PC from Adaptive Micro Systems, the world leader in LED Sign solutions.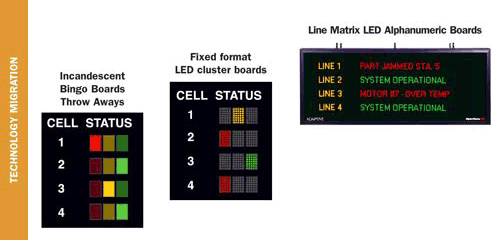 The Advantages of the AVPC ANDON solution:
Full Matrix High Resolution LED Sign
Flexible configuration to accommodate your ever changing needs
.3" (7.5mm) resolution for graphic and text applications
Open architecture
(Embedded Windows® 2000 or Windows CE)
Run your VB or HMI screens right on the AVPC
Simple integration
Utilize your existing shop floor operator interface systems
Run the AVPC as a Web browser
Run standard Windows applications such as Excel, Access, PowerPoint, etc
Compatible with SCC Multi-Use Protocol version 2.0
Drop an AVPC into your existing ANDON environment and it will operate like your existing boards…but provide flexibility for the future.
Cost
Hardware cost is competitive with older line matrix and .57" pitch ANDON solutions
Long term cost is significantly reduced due to flexibility of the full matrix display and the open architecture
Greatly reduce integration costs by utilizing your existing tools
No custom protocols, so no complex development is required (however, the AVPC does support the industry standards)


The time has come to take control of your ANDON solutions. The AVPC is the right choice for now and the future.