Company Profile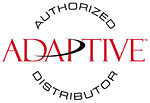 We are Authorized Distributors for Adaptive Micro Systems, and we offer specialized and customized indoor and outdoor sign applications. We carry a wide variety of indoor and outdoor computerized signs. All signs are programmable from an IBM-compatible computer, and many come with a hand-held remote control keyboard as well.
We carry small, medium and large programmable signs; single and multiple line models; one-color or multiple color models; and indoor or outdoor models. We will provide message boards in any size or configuration to fit your exact specifications and requirements. Indoor and outdoor models are equipped with bright LED's or LED clusters and attractive enclosures.
We offer a variety of messaging and application software programs, and our programmers can write or customize sign software to meet your specific needs and requirements.
We install stand-alone signs and networks of multiple signs. A network can be several signs located in one building, or a network can be one or more signs in multiple locations. Messages and real-time information can be sent to signs in remote locations in a variety of ways:
by telephone modem
by Ethernet network
by wireless transmitter and receivers
by Internet-connected paging services to wireless receivers
Our customers have our readerboards connected to many real-time information sources:
to ACD telephone systems
to Customer Management Systems
to manufacturing and production processes and assembly lines
to security systems
to postage machines
to email applications
and to news, weather and sports broadcast services
to stock market and market indices reporting services
to Internet applications
and to many other real-time information sources
Our indoor signs are used in business and government offices, factories, airports, train stations, cruise ship terminals, cafeterias, business lobbies, convention centers, schools, gymnasiums, student centers, computer rooms, gas stations, banks, restaurants, bars and lounges, retail outlets, prisons, and hospitals. Our outdoor signs are installed on hotels, office buildings, parking decks and billboards displays. Certain models are powered by batteries and solar panels.
The signs we sell are installed throughout the world.
Quick Information About Alpha-American Programmable Signs:
Authorized distributor for Alpha, BetaBrite, Solar and Eclipse Indoor and Outdoor LED Signs.
Authorized distributor for Alpha ACD Readerboards and Message Centers.
Developer of the Alpha Call Center System -- ACD Statistics and Messaging Display -- for all ACD phone systems (Nortel, Avaya, Lucent, AT&T, Rockwell, Rolm, NEC, Aspect, Siemens, eOn, Cortelco and others).
Authorized integrator of the Smart Alec™ Intelligent Messaging System.
Authorized dealer for the Alpha Theater System.
Developer of custom software for specialized programmable sign applications, such as props for movies, counters and countdown devices for tradeshows, game show displays, highway applications, theater event displays, transportation scheduling applications, and more.
Specialists in hotel system sign applications -- guest information, reservations department, directional marquees, meeting room identification, wireless news and entertainment, and more.
Specialists in wireless sign applications for paging and for noisy environments (factories, pubs and lounges, airport terminals, etc.).
Specialists in outdoor message centers. We wrote the book on outdoor message centers.
If a particular Alpha-American product is of interest to you, or if you are interested in becoming a product reseller, please contact us at info@alpha-american.com, or call us at 1-800-223-4636. Our sign specialists would be happy to discuss any special requirements you may have. We would also like to share with you a systematic plan designed to increase your sales and profits by utilizing a new three-part advertising strategy.
Click here for information on our Privacy Policy, and click here for Legal Notes on trademarks and copyrights.