ALPHA RGB 4000 - Mass Notification Systems
Emergency Notification Solutions Message Centers
Mass Notifications Message centers should be a component of any multi-modal emergency notification plan. Now Available in 24 Vdc or True PoE per IEEE 802.3.
Having your campus-wide alert systems work together by incorporating our products helps to ensure that in a crisis, everyone receives emergency notifi cation – including areas where noise levels are high, acoustics are poor, or mobile phones are not permitted or accessible.
Adaptive is a leading provider to the rapidly growing MNS market. We display critical alerts and messages via highly visible, full-color LED displays that are rated for both indoor and semi-outdoor applications listed to UL1638 Standard for Safety to Visual Signaling Appliances.
Alpha 4000 RGB models have 27 built-in display modes, 4096 colors, multiple text sizes and fonts. They also display user-designed graphics, day, date, time of day, and automatic counters.
Alpha 4000 RGB models are plug-compatible with all previous Alpha 4000 models.
Full Featured
Supports integration with leading fire control panel manufacturers and network-based emergency notification providers through open communications protocol.
Pre-programed, first responder and priority messaging
Scrolling and flashing text
Messaging by groups or zones
Reliable and energy efficient.
High visibility and readability out to 150 feet (50 Meters)+
Display date, time, weather and other general messages during non-critical situations
Support for secure encrypted network protocol
Emergency Display Benefits
Communicate clearly in environments with high noise levels, poor ambient lighting, or bad acoustics.
Provide visual messaging for the hearing impaired.
Offer primary or supplemental visual crisis emergency notification that complies with NFPA72 code 24.4.3.18 (use of Textual and Graphical Visible Appliances).
May provide lighting when white LED's are illuminated in partial or full display mode.
Three models are avalable: Alpha 4080 MNS, Alpha 4120 MNS, Alpha 4160 MNS,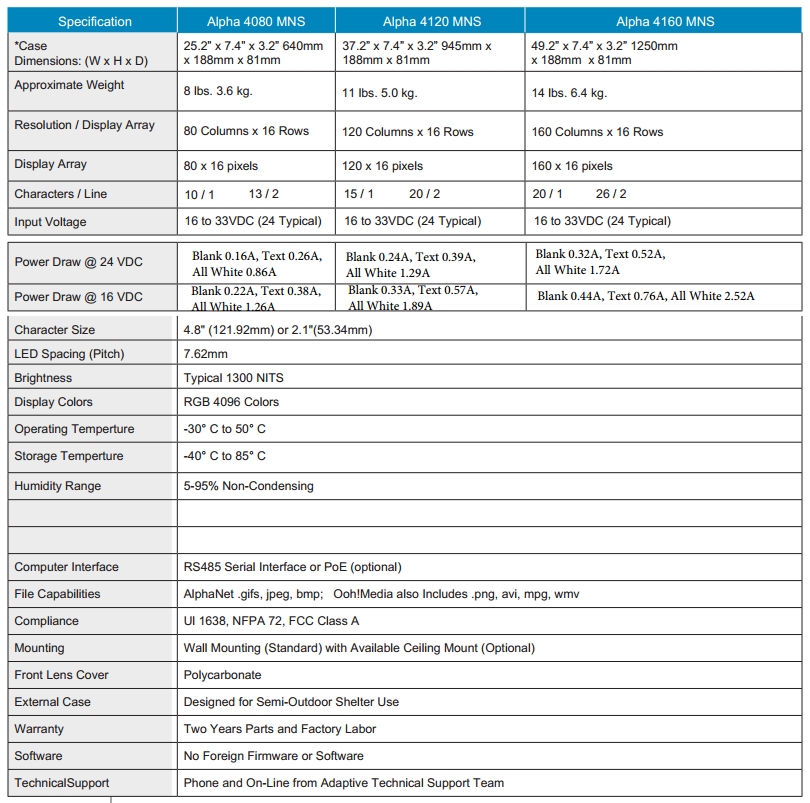 Industry leading features:
Rated for 100,000 hours of continuous use, 24 hours a day, 7 days a week
Powder coated light weight aluminum protective enclosure
Long lasting 100% solid state electronic components
Advanced internal thermal protection
ETL/ETLc and CE Listed
One year USA factory warranty
Alpha Series displays are extremely bright and visible from a wide viewing angle. Manufactured exclusively by Adaptive Micro Systems, these quality built displays are more energy efficient and easier to view than standard LED signs or LCD display monitors.
Technical Support
Hardware:

From Distributor, Alpha-American Programmable Signs
From Manufacturer, Adaptive Micro Systems

Software:

From Alpha-American Programmable Signs
From Adaptive Micro Systems
From other sign software providers
Prices and Ordering Information
There are three ways to obtain prices:

Call Alpha-American Programmable Signs at 1-800-223-4636.
Send an e-mail request for prices.
Use our Request Form.

7.75% California Sales Tax is added to sales of items delivered in California, unless other arrangements are made.
Actual shipping charges are added to each order.
Various terms are available.