Alpha 790i Incandescent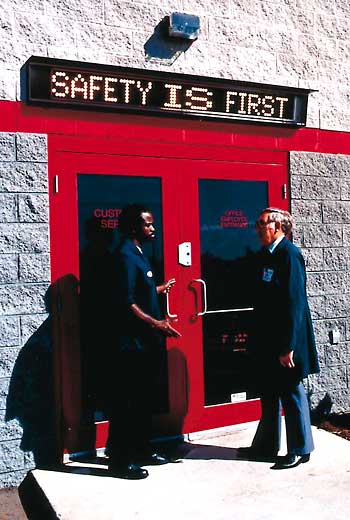 Overview Introducing the Alpha 790i Outdoor Incandescent Display; the newest design in outdoor message center communications. Reliable, day-after-day performance, quality U.S.A. construction, and cost-effective design now allow unlimited possibilities in outdoor incandescent signage.
Engineering you can depend on
Each Outdoor Incandescent Message Center features a 7 x 90 dot matrix that displays one line of 15 characters, single or double faced, 6.3" characters, and 1.25 watt, low voltage, wedge based lamps for extended life and easy replacement.
Designed for a wide variety of outdoor applications, every Alpha Outdoor Message Center comes with these features and more:
Gold plated, corrosion resistant lamp sockets
Individual, self-contained power supply
Rugged, quick connect electrical hook-up
Battery backed time-of-day clock
Easy Key with Automode programming
Built-in overheating protection
Automatic time-of-day dimming for night time messaging
Go with the leader
When you purchase an Alpha Outdoor Incandescent Message Center, you're going with a leader in the industry. AMS offers a decade of design, development, and manufacturing of visual information display systems throughout the world. AMS provides extensive technical support and thorough after sale back-up.
Programming
Exclusive Easy key operation with Automode eliminates the need to learn complicated programming procedures. Within seconds, the operator can use the handheld keyboard to create exciting visual messages that cannot be ignored.
Networking
Compatible with optional AlphaVision II communications system. A PC/MS-DOS software program provides the capability to control an entire network of Alpha message centers.
Features
15 character, signle line display
Battery backed, time-of-day clock
Infrared receiver for remote programming
Automatic time-of-day dimming
Corrosion resistant, gold plated lamp sockets
7200 character memory capacity
Serial interface for PC programming
Low power consuming, 1.25 watt bulbs
Built-in overheating protection
Black textured finish metal cabinet
Typical Applications:
Financial Institutions
Gas Stations
Convenience Stores
Factories
Schools/Universities
Auto Dealers
Hotels and Motels
Car Wahes
Parking Garages/Structures
Typical Uses:
Drive Thrus
Store Fronts
Emloyee Entrances
Gymnasiums
Parking Lots
Point-of-Purchase
Standard Features:
PC or Handheld IR Keyboard Programming
Versatile 7 Dot x 90 Dot Matrix
1.25 Watt Long Life Wedge Based Lamps
Gold Plated, Corrosion Resistant Lamp Sockets
Easy Front Loading Lamp Replacement
Self Contained Power Supply
Automatic Night Time Dimming
Built-in Overheating Protection
Temperature Probe
5 Variable Display Speeds
26 Different Modes
Quality U.S.A. Craftsmanship
8k RAM Memory
For prices, please call Alpha-American at (800) 223-4636 or use our Request Form.
7.75% California Sales Tax is added to sales of items delivered in California, unless other arrangements are made.
Shipping charges are added to each order.
Submit orders by fax, mail, e-mail or telephone.
Various terms are available.
Copyright and Disclaimer Notices