Outdoor Programmable Electronic Message Center Signs and Software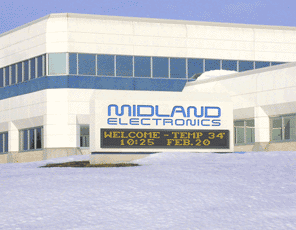 Call 1-800-223-4636 toll-free for prices. Order an Alpha Eclipse 3500 LED Sign today, and we'll include free messaging software, communications cable, two-year warranty, lifetime support, low price guarantee, and a discount coupon for your next order.

Table of Contents
Overview
Alpha Eclipse 3500 LED Sign Brochure
Applications
Features
Specifications
Accessories
Software
Documentation
Training and Support
Ordering

Alpha Eclipse 3500 LED Sign signs are outdoor, full matrix, single-color electronic LED Signs with daylight-visible characters and a weather-resistant enclosure. The unique, state-of-the-art design produces a dynamic advertising message center that is highly energy efficient and easy to operate, install and service. Various Alpha Eclipse 3500 LED Sign models can display from one to four lines of text, graphics, and animations in either red or amber color; and they can be networked together with other Alpha Eclipse, Alpha, AlphaPremiere, and AlphaVision displays using RS485, Ethernet, Fiber Optic, or wireless connectivity.
Alpha Eclipse 3500 LED Sign Series signs are versatile outdoor LED message centers designed for industrial and commercial use. The Alpha Eclipse 3500 LED Sign is one of the brightest and sharpest outdoor displays available.
Messages are enhanced by 30 built-in display modes; 7 text sizes; serif and san-serif fonts; fixed and proportional spacing; user-designed graphics and animations display; day, date and time of day display; temperature display; five automatic day, hour, and minute counters; special symbols and international characters; and many other special features.
Messages may be entered using a computer and special messaging software. Information from customer files (SQL, ODBC, Excel, DDE, etc.) can be displayed automatically. Automode programming features eliminate the need to learn complicated programming procedures. Within seconds, anyone can create attractive visual messages with attention-getting impact.
Built-in diagnostic, testing, and reset switches provide self-diagnostic capability, easy memory clearing, and convenient reset features for program developers and end users.