ALPHA RGB 9000 Series
9000 Series Full-Color RGB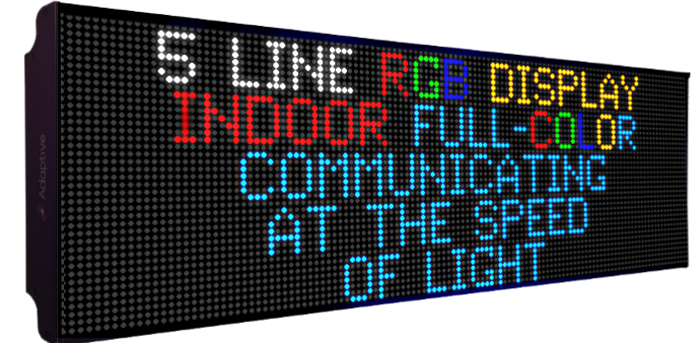 The Adaptive legacy continues with five new Alpha 9000 RGB Electronic Message Center models designed for office, industrial and commercial use. Improve employee morale, customer satisfaction, sales, and safety by using Alpha 9000 RGB signs to display messages, productivity statistics, safety and accessibility information to customers, visitors and employees.
These state-of-the-art, indoor, full matrix, full color LED message centers display one or two lines of crystal clear, bright, full-color text, graphics, and animations. AutoMode and AutoColor programming features allow anyone to quickly create amazing and attractive visual messages with attention-getting impact!
Messages can be entered using Windows, iOS, or MacOS software, designed to take full advantage of the many Alpha 9000 RGB features. Connectivity options include RS485, Ethernet and Wi-Fi. Any number of Alpha 9000 RGB Electronic Message Centers may be connected together in an integrated system that displays the same or different information instantly where it is needed.
Alpha 9000 RGB models have 27 built-in display modes, 4096 colors, multiple text sizes and fonts. They also display user-designed graphics, day, date, time of day, and automatic counters.
Alpha 9000 RGB models are plug-compatible with all previous Alpha 9000 models.
The 9000 RGB Series is available in five sizes. Each model offers exceptional energy efficiency, brightness, resolution, and viewing angle. Alpha 9630 RGB, Alpha 9640 RGB, Alpha 9650 RGB, Alpha 9660 RGB, Alpha 9670 RGB
Discontinued: Alpha 9430 RGB, Alpha 9440 RGB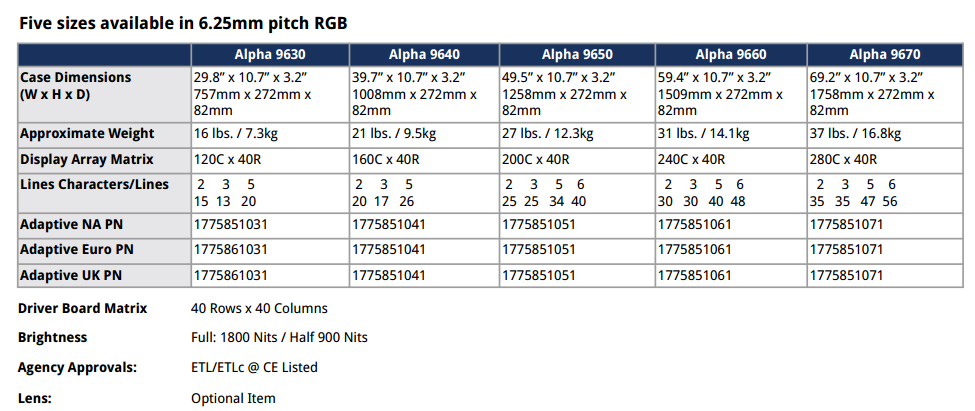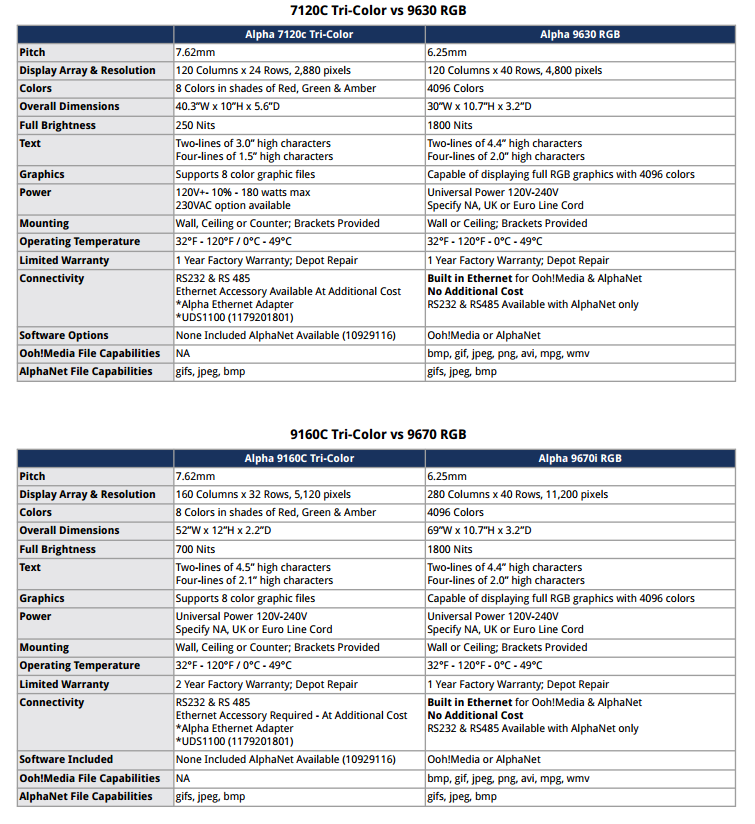 Industry leading features:
Rated for 100,000 hours of continuous use, 24 hours a day, 7 days a week
Powder coated light weight aluminum protective enclosure
Long lasting 100% solid state electronic components
Advanced internal thermal protection
ETL/ETLc and CE Listed
One year USA factory warranty
Alpha Series displays are extremely bright and visible from a wide viewing angle. Manufactured exclusively by Adaptive Micro Systems, these quality built displays are more energy efficient and easier to view than standard LED signs or LCD display monitors.
Technical Support
Hardware:

From Distributor, Alpha-American Programmable Signs
From Manufacturer, Adaptive Micro Systems

Software:

From Alpha-American Programmable Signs
From Adaptive Micro Systems
From other sign software providers
Prices and Ordering Information
There are three ways to obtain prices:

Call Alpha-American Programmable Signs at 1-800-223-4636.
Send an e-mail request for prices.
Use our Request Form.

7.75% California Sales Tax is added to sales of items delivered in California, unless other arrangements are made.
Actual shipping charges are added to each order.
Various terms are available.