Software
Alpha Messaging for Windows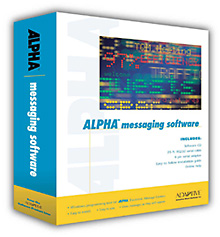 Overview
Program your Alpha electronic message display from your desktop PC. Alpha Messaging Software comes complete with everything you need to get your message moving in the right direction. Program your messages with the touch of a button. Adjust your messages in a moment's notice. Alpha Messaging Software connects with Adaptive's Alpha electronic message displays. It's easy to use, easy to install and allows you to welcome guests, post events, and keep your traffic flowing. Make your communication more efficient and effective.
Software Kit Contents
Software CD ROM.
Installation guide.
ALPHA LED sign cable (25 foot RS232).
PC adapter for sign cable.
System Requirements
PC with CD ROM drive and mouse
VGA or SVGA color monitor
16 MB RAM or greater
Windows 95/98 or NT 4.0 operating system
486 processor or better
ALPHA Signs Supported
210C, 215C, 215R, and 220C
320C and 330C
4080C, 4120C, 4120R, 4160C, 4120R, 4200C,
4200R, 4240C, and 4240R
7080C, 7120C, 7160C, and 7200C
Big Dot
Director
Personal Priority Display (PPD)
Solar
For prices, please call Alpha-American Programmable Signs at (800) 223-4636 or use our Request Form.
7.75% California Sales Tax is added to sales of items delivered in California, unless other arrangements are made.
Shipping charges are added to each order.
Submit orders by fax, mail, e-mail or telephone.
Various terms are available.