Full-Color RGB Window Display
W-Series Window Display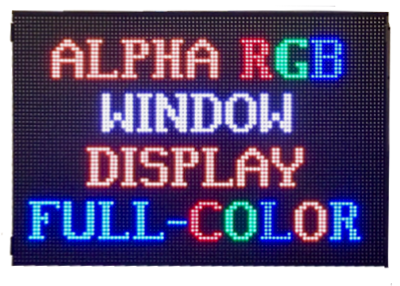 Easily seen in direct sunlight from 500 ft. away, these sleek full color window displays demand attention! Due to the incredibly bright 5,550 NIT direct LED modules, the Alpha™ W Series delivers a vivid, highly visible viewing experience to all vehicle and pedestrian traffic in the vicinity.
Stand out:
Alpha™ W Series are built with GlareShield,™ guaranteeing your messages will be easily seen in direct sunlight with 20/20 clarity.
5 times brighter than LED edge-lit TVs
Industry leading ultra wide viewing angles
Broadcast your message:
Using the included intuitive messaging software you can create, edit and schedule information, advertisements or other important notifications to automatically play and update the sign.
Comes with a library of pre-made animated backgrounds, graphics and special effects
Easily overlay text to graphics or animation
Integrate your message with the current time, weather, news and sports feeds
Industry leading features:
Rated for 100,000 hours of continuous use, 24 hours a day, 7 days a week
Powder coated light weight aluminum protective enclosure
Long lasting 100% solid state electronic components
Advanced internal thermal protection
ETL/ETLc and CE Listed
One year USA factory warranty
Alpha Series displays are extremely bright and visible from a wide viewing angle. Manufactured exclusively by Adaptive Micro Systems, these quality built displays are more energy efficient and easier to view than standard LED signs or LCD display monitors.
7.8 mm Pitch

Technical Support
Hardware:

From Distributor, Alpha-American Programmable Signs
From Manufacturer, Adaptive Micro Systems

Software:

From Alpha-American Programmable Signs
From Adaptive Micro Systems
From other sign software providers
Prices and Ordering Information
There are three ways to obtain prices:

Call Alpha-American Programmable Signs at 1-800-223-4636.
Send an e-mail request for prices.
Use our Request Form.

7.75% California Sales Tax is added to sales of items delivered in California, unless other arrangements are made.
Actual shipping charges are added to each order.
Various terms are available.
Copyright and Disclaimer Notices