Accessories
Programmable Touch Pad Interface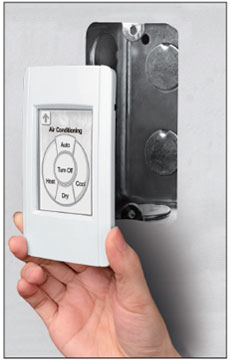 Overview
Compact Touch Screen PLC Controller with high resolution TFT color touch screen which fits in regular electrical wall-mount outlets, and is Powered over Ethernet. Supports Modbus TCP.
Trigger messages on any Alpha display simply and economically!
The Programmable Touch Pad Interface also accepts connects via Modbus TCP from devices such as PV inverters and other Modbus TCP devices.
Alpha LED Signs with standard Alpha firmware will store and display up to 80 messages and up to 90 variables. The messages are created and stored using the Alpha infrared keyboard or using software, such as the Alpha File Loader program or the Alpha Messaging software program.
The Programmable Touch Pad Interface can be programmed to show custom buttons which trigger custom messages.
Specifications & Additional Information
HARDWARE
CPU

Lower-power 32-bit RISC CPU

Communication Method

Ethernet (10/100 Mbps)

LCD

2.8" TFT (Resolution 240 x 320 x 16)

Touch Panel

Yes

Buzzer

Yes

Rotary Switch (0~9)

Yes

Reset Button

Yes

ELECTRICAL

Power
PoE (IEEE 802.3af, Class 1)

MECHANICAL

Dimension (W x L x H)

76 mm x 119 mm x 33 mm

Ingress Protection

Front panel: IP65

Wall Mount

Yes

ENVIRONMENTAL

Operating Temperature

-20 ~ +70 °C

Storage Temperature

-30 ~ +80 °C

Ambient Relative Humidity

10 ~ 90% RH, non-condensing
For prices, please call Alpha-American at (800) 223-4636 or use our Request Form.
7.75% California Sales Tax is added to sales of items delivered in California, unless other arrangements are made.
Shipping charges are added to each order.
Submit orders by fax, mail, e-mail or telephone.
Various terms are available.