Accessories
Alpha Ethernet Adapter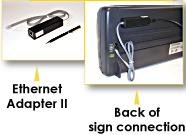 Overview
Connect Alpha Displays to your existing 10BaseT or 100BaseT TCP/IP LAN.
Simply attach the Ethernet Adapter II to the back of a display and connect your Ethernet cable to the Adapter. The Alpha Ethernet Adapter is easily configured remotely over your network. No external power supply is required as the Adapter is powered directly by the display.
Two additional solutions are available. For 100BaseT networks, Adaptive offers the MSS100 version of the Ethernet Adapter. Where several displays are connected together via a RS485 network, the MSS485 version is available to easily connect multiple signs to one IP address on a 10BaseT network.
Features Include
Easy connectivity to existing LAN's.
Networking via TCP/IP 10/100BaseT (100 Base T with the MSS100)
Connection to Adaptive's full line of standard Alpha displays.

The ability for non "TCP/IP ready" software to communicate with Alpha displays on TCP/IP networks
Simple user setup of the IP address.
Backwards compatible with existing serial Alpha displays which allows a computer with only serial ports to communicate via a TCP/IP network
Applications
Call Centers
Production/operation statistics from your ERP system
Material scheduling via your Warehouse Management System
Plant wide employee communications over your existing network
For prices, please call Alpha-American Programmable Signs at (800) 223-4636 or use our Request Form.
7.75% California Sales Tax is added to sales of items delivered in California, unless other arrangements are made.
Shipping charges are added to each order.
Submit orders by fax, mail, e-mail or telephone.
Various terms are available.