Software
AlphaNet for Windows
Diagnostics
| | |
| --- | --- |
| Tools Menu | |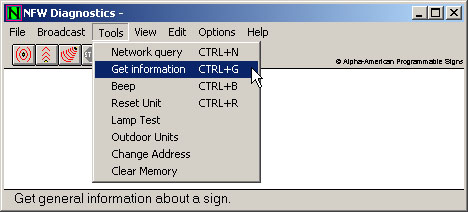 Get Information – This Diagnostics utility can retrieve the following information from one or more displays:
Firmware Revision, Time, General Information
Serial Address

Firmware Part Number

Firmware Date

Speaker Status: Enabled or Disabled

Total User Memory

User Memory Available

Unit Time

Time Format: 12-hour AM/PM format or 24-hour Military Time format

Unit Day of Week

Unit Date
Standard Text and Dot File Information
Memory Configuration by Memory Area

Text and/or Dot Files
File Sizes
Locked from Keyboard Editing or Not
Number of Colors Used in Dots Files
Run Schedules
Run Sequence
Run Sequence Status
Counter Setup Information
Counter Data

Counter Output File Name
Quick Flick Information
Displays whether or not the Quick Flick feature is supported by the sign.
Outdoor Temperature Offset
If the Temperature feature is supported by the sign, this utility displays the Temperature Offset value.
Serial Error Status
Displays an error message, if an error has occurred.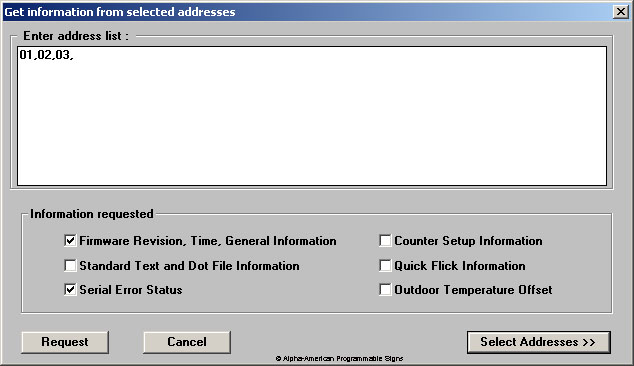 When the Select Addresses >> button is clicked, the Address Space screen prompts for a sign address list selection for the Get Information query: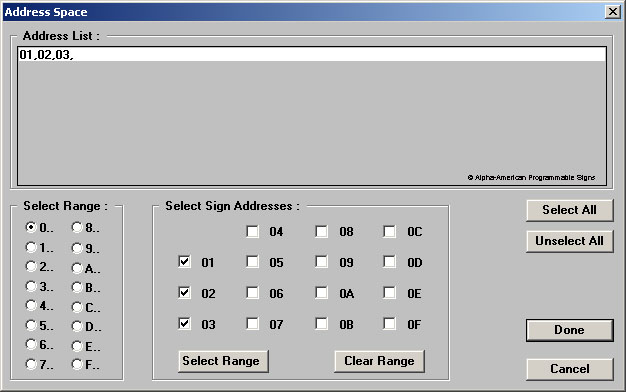 Once one or more sign addresses are selected, the Get Information utility interrogates each sign and displays a report.
The report may be printed or saved.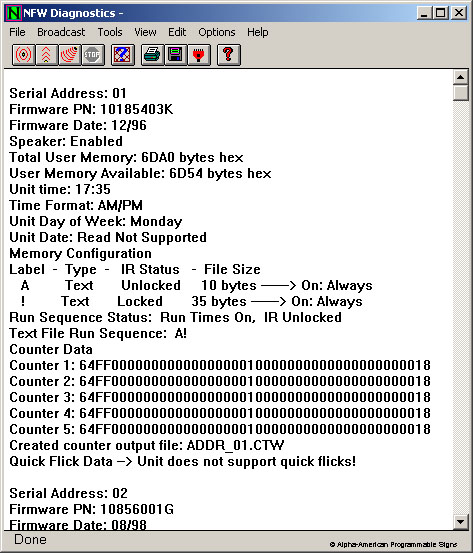 Next: Beep | AlphaNet Plus Home