Software
AlphaNet for Windows
Animation Menu
Most AMS message centers have built-in animations. AlphaNet Plus for Windows inserts the animation codes into your message.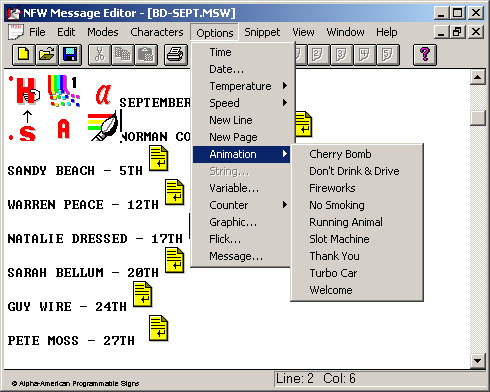 Cherry Bomb - The fuse on a cherry bomb burns down, and the bomb explodes with a beep. The beep is an attention-getting Audible Alert when it is incorporated into a message.
Don't Drink and Drive - A car collides with a bubbling cocktail glass, tossing its passenger and displaying the message "Please Don't Drink and Drive."
Fireworks - Firework patterns explode and cascade on the display.
No Smoking - A burning cigarette is extinguished, flipped with a finger and replaced with the international No Smoking symbol.
Running Animal - An animal resembling a horse runs across the display from right to left.
Slot Machine - A slot machine spins with random outcomes.
Turbo Car - A car appears and races across the display.
Thank You - "Thank You" is written in script from left to right.
Welcome - "Welcome" is written in script from left to right.
On some AMS message centers, one or more of the following animations are substituted:
Fish - Three little fish - one red, one yellow and one green - swim from left to right past green underwater vegetation, then swim right to left, chased by a red shark.
Balloons - About a dozen balloons in different sizes and colors float up. Ends with exploding effect.
News Flash - A colorful satellite dish graphic "transmits" dots upward as the characters, "NEWS FLASH" in red, green and yellow, wipe right.
Trumpet Playing Music - A trumpet rolls down onto the screen. As its valves move up and down, eight red and green notes come out of the trumpet and move across the screen to the right.
Next: File Menu | AlphaNet Plus Home