BetaBrite Messaging Software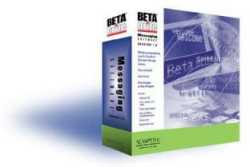 Make your visual communications more efficient and effective.
BetaBrite Messaging Software allows you to easily create high-visibility text messages on your PC and send them to your BetaBrite LED Sign.
BetaBrite Messaging Software comes complete with everything you need to get your message moving in the right direction.
Program messages and insert special features -- colors, modes, speeds, animations, date and time -- with the touch of a button. Adjust your messages quickly with just a few keystrokes.
BetaBrite Messaging Software connects with BetaBrite electronic message displays. It's easy to use, easy to install and allows you to welcome guests, post events, and keep your traffic flowing.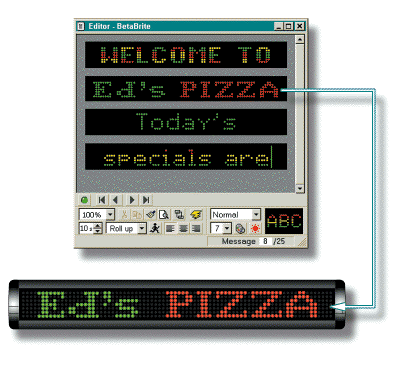 Features
Makes creating and displaying messages on BetaBrite message centers easy and fun.
Easy to install and use.
View messages as they appear with its WYSIWYG design.
Direct, inform, and entertain clients and guests.
Get powerful results.
Reach people when and where it counts.
The easy-to-implement solution.
Use with the BetaBrite Director™ and BetaBrite one-line signs
Software Kit Contents
Software CD ROM
Installation Guide
25-foot RS232 Serial Cable with 9-pin RS232 connector on the PC end and RJ12 connector on the sign end.
System Requirements
PC with CD ROM drive and mouse
VGA or SVGA color monitor
16 MB RAM or greater
Windows operating system
486 processor or better
Signs Supported
BetaBrite
BetaBrite Director
BetaBrite Window Display
Messaging System Color Brochure
Ordering Info:
For prices, please call Alpha-American at (800) 223-4636 or use our Request Form.
7.75% California Sales Tax is added to sales of items delivered in California, unless other arrangements are made. Shipping charges are added to each order.
Submit orders by fax, mail, e-mail or telephone.
Various terms are available.