Special Applications
Hospitality
Special Applications Guide
ALPHAEclipse outdoor LED Signs are the most affordable way to advertise promotional programs to your targeted audience - compared to traditional advertising media.
Hotels and motels now have a new way to get the attention of the huge audience driving by their facilities every day - with an impact that only ALPHAEclipse outdoor electronic message centers can provide.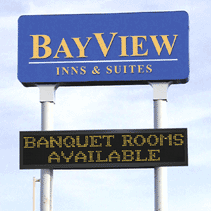 Street pylons
Monument signs
Highway sign poles
Parking garages and ramps
Advertise your important hospitality messages at a moment¹s notice. Standard computer software is included to turn your PC into a convenient programming tool. Optional wireless devices enable easy installation ­ no complicated wiring. Optional telephone modems allow you to communicate with displays in remote locations. Advances in outdoor LED technology provide you with a virtually maintenance-free product.
Superbrite, solid-state LEDs last for over 100, 000 hours of continuous operation, consume less than 1/40 the power and significantly outlast comparable-sized incandescent message centers. The combination of both indoor and outdoor Alpha message centers create moving, advertising messages that cannot be ignored. Use Alpha indoor displays to display information such as; convention bus times, routing guests to meeting rooms, recognize employees, highlight high-profit room services and lounge drinks and many other uses.
Advertise room specials and rates
Promote current and upcoming entertainment
Inform customers of free services, in/outdoor pool, newspaper, local calls, meeting rooms, breakfast, etc.
Welcome VIPs and business groups to town
Highlight the special menu items of the day/week/month
Remind customers about seasonal products and services
Display community involvement and events
Use time/date/temperature as a community icon
Advertise for Help Wanted
Features
Long life LEDs – 100,000 hours
Character size: 11 to 22-inch
24 models available
One-year U.S.A. factory warranty
Stores & displays over 81 messages
Flexibility of 1 or 2 line messages
Front-serviceable
Lightweight, high-tech, durable extruded aluminum case
6 Character fonts
Create your own graphics & logos
A standard RS232/RS485 interface, with embedded firmware that allows for automatic conversion of serial communication signals from RS232 to RS485 in multi-sign networks.
Optional modem
An optional, bi-directional wireless transceiver that allows you to both send and receive communication signals. The wireless transceiver also eliminates cabling requirements.